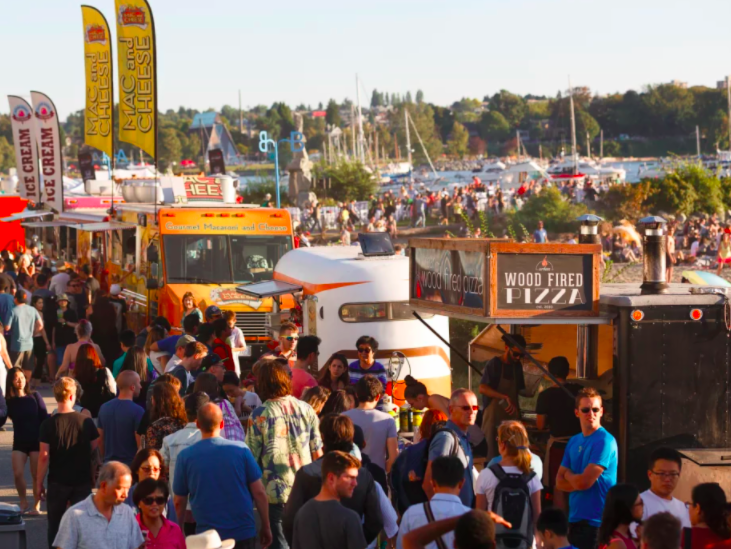 CELEBRATION OF food
with so much to see, you're bound to work up an appetite 
The Honda Celebration of Light is proud to host an array of local food options for our guests! Food Trucks will be located at English Bay along Beach Ave. and the Park Stage at Second Beach in Stanley Park, along with hot & cold buffet options at our ticketed venues The Keg Lounge, Concord Lounge at the Inukshuk and YVR Business Class Cabanas.
CONCORD LOUNGE
A TASTE OF THE WEST COAST 
Kick back and relax at this waterfront location and enjoy a fresh summer BBQ. Experience a collection of west coast favorites including wild B.C sockeye salmon, locally sourced vegetables, delectable desserts, and more.
THE KEG LOUNGE
PANORAMIC VIEWS AND PHENOMENAL FOOD
Tuck into sliders and other Keg Steakhouse and Bar favourites. With beaches, burgers, and beats- The Keg Lounge is the quintessential Vancouver experience.
FOOD TRUCKS
A BEACHSIDE BONANZA
Enjoy the best food on four wheels! Food trucks will be located along Beach Ave. so you can stroll and take your pick from a variety of tasty delights. Explore the full Food Truck lineup below.
DUTCHLICIOUS
BIG RED POUTINE