2019 FIREWORKS
EXPERIENCE DAYS OF AWESOME AND NIGHTS OF AWE
The unforgettable energy of the Honda Celebration of Light returns for its 29th year with a thrilling line-up of pyrotechnic performers featuring competing teams from India, Canada, and Croatia.
JULY 27 | INDIA
AMIR MORANI FIREWORKS
As India's first family of fireworks, their founder began in 1937 establishing a continued legacy of excellence. The Morani's live and breath fireworks - and look forward to sharing this passion with locals and visitors alike.
JULY 31 | CANADA
FIREMASTER PRODUCTIONS INC.
The producers of over 100 displays across Canada and Internationally each year. Their passion for custom soundtracks and high-quality products are sure to leave you in wonder.
AUGUST 3 | CROATIA
MIRNOVEC FIREWORKS
Founded in 1993, "Mirnovec" is a synonym for
fireworks and special effect. This European team manufactures their own fireworks and are excited to put on a show to remember this summer in Vancouver.
VANTAGE POINTS
After exploring the festival, soak in the fireworks from a variety of beach-front locations. Fireworks begin each evening promptly at 10:00PM.
SECOND BEACH
Check out the Second Beach Stage and explore an array of family-friendly activities, then head to the beach for the fireworks show. This venue has a partially obstructed view of the lower fireworks in a less crowded area.
English Bay
The closest viewing area to the fireworks barges as well as the host of our main ticketed areas! From English Bay, you can enjoy a fully unobstructed view of the fireworks from the beach.
KITSILANO/VANIER PARK
Enjoy unobstructed views from the beach, this area is more popular with families and residents of the area and is less crowded than English Bay.
HONDA ZONE AT DAVIE & DENMAN
Celebrate Honda's 50th anniversary by visiting the Honda Zone to spin the wheel to win fun prizes, snap a signature photo, pick out an airbrush tattoo inspired by each of the 5 decades Honda has been in Canada, and more!
This area also includes Honda's latest hybrid vehicles: the Accord Hybrid, Insight Hybrid, and Clarity PHEV, alongside favourites, the Type R and a classic Honda Civic.
Don't miss your chance to win a 2019 Honda Civic Sedan Touring! Click here or complete a survey at one of our booths onsite at the Honda Celebration of Light to enter!
HONDA AT THE PARK STAGE AT SECOND BEACH
Bring the family down for an afternoon of free fun and activities before the fireworks each night at the Honda Celebration of Light! 
Chill out with Honda at our Park Stage location at Ceperely Meadow next to Second Beach. A short walk down the seawall from English Bay, tuck in for a free popsicle before posing for a custom caricature or picking out a unique spray-on tattoo – they've got a little something for everyone!
Hendrick's® Gin A.W.E.V.A.N.A.I.R. Hot Air Balloon + Air Departure Lounge
Be sure to check out HCOL Downtown at the Vancouver Art Gallery's North Plaza on Aug 2 and 3, featuring the Hendrick's® Gin Air Departure Lounge and Hot Air Balloon.
This is a free, 19+ experience showcasing the whimsical world of Hendrick's® and featuring live music, entertainment, jazz, and gin sampling. Open to the public from 5:30 pm – 11 pm on Friday, Aug 2 and 5:00 pm – 11 pm on Saturday, Aug 3, guests can enter for a chance to win a Golden Ticket to ride in the towering 65ft Hendrick's® hot air balloon.
PETE MCLEOD AIRSHOW
Back by popular demand! Red Bull athlete Pete Mcleod present his jaw-dropping airshow over the shores of English Bay each day of the Honda Celebration of Light! Check out his dazzling display at 7:45PM nightly.
Celebration of Music
Whether you plant yourself at the Park Stage at Second Beach or catch a set from the Bathhouse Roof at English Bay, we've got a selection of BC based talent fit for any time of day.
Celebration of Light
We're ready to spark some fun this summer. After exploring the festival get ready to sit back, gaze at the night sky, and soak in the fireworks spectacular.
Celebration of Food
We know you're hungry! We've got a selection of the best food on 4 wheels. Bring your appetite and get ready to consume our wide selection of Food Truck offerings by local BC businesses.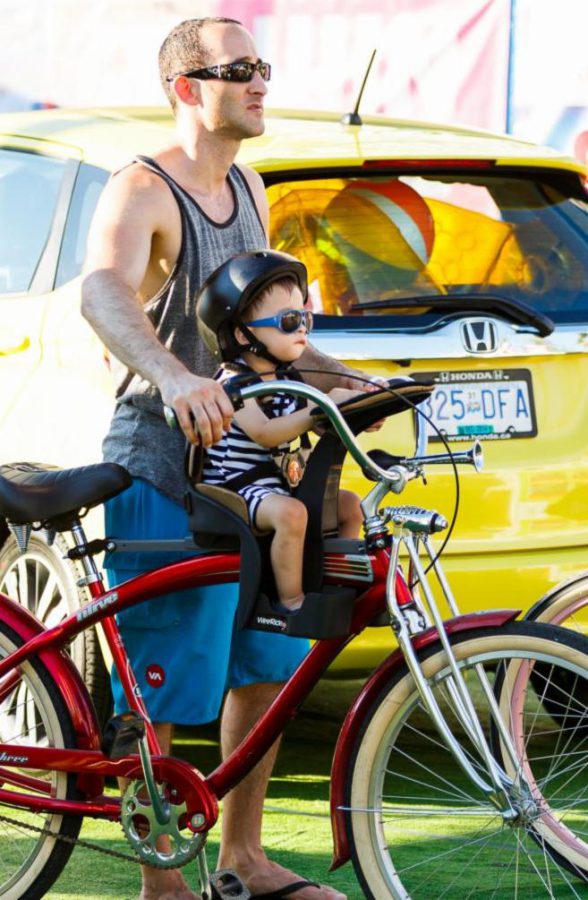 Getting Here
English Bay in the heart of the West End is easily serviced by transit and via the Seawall and Downtown bike routes — for an easy and fun experience, leave your car at home and take transit or bike to the celebration!
Public Transit
Event nights will see increased Skytrain, Canada Line, and Bus service to accommodate a large number of fireworks fans. Be patient on your journey - the show will be worth the trip!
Closest SkyTrain Station to the Festival is Burrard Station and the Yaletown-Roundhouse Station of the Canada Line. Numerous buses travel along Georgia St. to Denman, and the #6 will bring you from Granville St. to Denman St. Kitsilano is serviced by numerous bus lines however, there is no Skytrain service to the area.
For transit service information and updates, sign up for Transit Alerts, or follow TransLink on Twitter @TransLink. To help plan your trip on Public Transit, visit the TransLink website.
Biking
Go green! Not only is biking on of the easiest ways to access the Honda Celebration of Light, it's an environmentally friendly way to explore the Festival.
Bringing your bike to the festival is a great idea, especially when you can lock it up safely in our complimentary Bicycle Valet. The Bicycle Valet will be operating from 3PM each night of the Fireworks at The Park Stage at Second Beach venue, as well as 4PM on July 31 and Aug 3 at Sunset Beach.
Mobi members, don't forget you'll also be able to end your trip Mobi at the Bicycle Valet on Sunset Beach!
Driving
If you plan to drive, arrive early and leave plenty of time to find parking. If you can, try to carpool with friends and neighbours and be prepared to walk a distance from your parking spot.
Road Closures are in effect from 7:00PM in the West End, including Davie, Denman and Beach Avenue. Access roads into Kits Point are closed from 6:00pm. Roads will re-open once crowds have dispersed and police have given their clear at approximately 11:00PM. Residents will be allowed into the area at specific access points but must display a valid resident parking permit or recent proof of address. Please respect all parking notices to avoid having your vehicle towed as enforcement will be strict.
Motorists are not permitted to stop on any city bridge to view the fireworks, as it is a serious safety and traffic flow concern.
ACCESSIBLE VIEWING AREAS & ACCESS
reserve your spot to view the fireworks spectacular
For complimentary access to our accessible viewing platform please contact fireworks@brandlivegroup.com for details on how to reserve your spot. Limited space available, maximum 2 per order.
Parking near the festival can be limited, familiarize yourself with the following designated Disabled Parking areas.
A valid disabled persons' decal or placard is required and should be clearly displayed when utilizing Reserved Disabled Parking areas. Users are still obligated to follow the usual payment requirements and must observe all posted traffic signage. Motorists not displaying valid decals/placards will be towed. The following areas are reserved strictly for disabled persons parking on event nights on a first come, first served basis:
WEST END
Bidwell and Burnaby Streets: On-street parking on the east side of the 1200 block of Bidwell, from Burnaby Street to the lane north; both sides of Bidwell, between Beach Avenue and Burnaby Street (from 5pm onwards); and north side of Harwood from Bidwell to Driveway. Parks Board Administration Office parking lot at 2099 Beach Avenue (from 5pm onwards).
KITS POINT
Limited number of stalls in the parking lot at Arbutus and McNicholl (from 5pm onwards).
WHAT TO BRING
Don't miss a moment, rain or shine
The Honda Celebration of Light is proud to host a full day of festival programming with live music, food vendors, activities for kids, and roaming performances to enjoy leading up to the 10PM fireworks show each evening.
Don't forget these important items to make the most of your festival experience!
Your SmartPhone
Download our mobile app and you will have access to maps, schedules and a live simulcast of the fireworks music.
Weather Gear
Dress in layers and enjoy the daytime activities then be cozy and comfortable during the evening fireworks show. The fireworks celebration goes on rain or shine! Be prepared – bring sunscreen, lots of water, layers/breathable fabrics, and a rain poncho to keep you dry just incase.
If you are planning to enjoy the fireworks from The Keg Lounge, Concord Lounge at the Inukshuk, or YVR Observation Deck be sure to bring your tickets with you. Please note, consumption of alcohol is prohibited outside of our licensed venues.
Lost & Found
Located at the Volunteer Headquarters, located in the Gazebo in Alexandra Park on Beach Avenue between Bidwell and Burnaby St. across from the YVR Observation Deck. Additionally, numerous First Aid services will be available throughout the festival site, check out our Festival Map and look for the First Aid Icon along with the Lifeguard Station located in the Bathhouse building in English Bay.
Safety on the water
Considering taking in the fireworks portside? 
With so many Fireworks fans, be extra cautious, keep the following safety tips in mind to enjoy an evening of wonder on the water.
In English Bay, all boaters need to position themselves outside the exclusion perimeter marked by marine buoys. These buoys mark the safe perimeter only and are not to be used as mooring points. If you are not thoroughly familiar with operating your boat at night please consider watching the display from the beaches instead. By observing a few simple safety rules, boaters can contribute to a safe, incident-free event.
Boating License & Navigation Lights – you will be leaving after dark, make sure you can be seen!
Be aware of hazards: tides, current, other vessels, and shallows.
Have all your Safety Gear on board at all times know the laws around alcohol and boating, and respect them – Police will be on the water to enforce these laws.
Maintain a safe lookout at all times for canoes, kayaks, and other non-powered vessels.
Canoes, kayaks and other non-powered vessels should stay close to the shore to avoid interfering with the navigation of larger vessels and be aware of the exclusion perimeter as well as ensure they are visible on the water.
For more information, please visit: Transport Canada, Office of Boating Safety