NIGHTS LIKE NO OTHER
BC's largest live event is back for another season. Watch three different countries compete over English Bay on July 28, Aug 1, and Aug 4.
THE FIREWORKS ARE JUST THE FINALE
Check out the stage before you watch the sky. We've got a selection of BC-based talent and beyond for you to enjoy ocean-side before the fireworks close the show.
EAT, DRINK & BE MESMERIZED
You can actually taste the excitement. Details coming soon on our array of food trucks, tasty eats and west coast favourites.
WE'VE GOT A LOT TO CELEBRATE!
Share the love this summer
For the first time ever, the Honda Celebration of Light invited the public to vote on a theme for this year's fireworks competition. "Love" was selected by an overwheliming majority, don't miss your chance to share in the excitement and see how each team will incorporate this theme July 28, Aug 1, and Aug 4.
Share the love on social media by following us here.
OUR COUNTRIES
TAKING TO THE SKIES July 28, August 1 & August 4 
Each year, the Honda Celebration of Light welcomes three new countries to compete just off the shores of English Bay in Vancouver, BC.
This year, the festival is excited to welcome South Africa, Sweden, and South Korea! To learn more about each team, click here.
OUR JUDGES
Pyrotechnic teams are judged by a panel of industry experts,
sponsor representatives, and celebrities that spark inspiration in their community.
This year's Judges are:
Our Head Judge, Raymond Louie – Vancouver City Councilor
Stuart Mackinnon – Chair of the Vancouver Park Board
Scott Shantz – Z95.3
Gary Gohren – West End BIA
Sophie Lui – Global BC
Matt Meehan – Concord Pacific
Join in the action
Help us decide this year's winner, download the Honda Celebration of Light mobile app to rate each team! Mobile app will be avaliable in the summer of 2018.
OUR CRITERIA
it's ALL IN THE DETAILS
Sizing of the Show  –  10 Points
Overall Design and Artistry  –  30 Points
Synchronization  –  20 Points
Originality of Effects  –  15 Points
Quality of Soundtrack  –  15 Points
Quality of Fireworks  – 10 Points
our teams
South Africa
Don't miss the Fireworks for Africa team from South Africa performing Saturday, July 28th.

Established in 1996, in their first year, Fireworks for Africa was the winner of the 2016  International Pyrodesigner Championship, Italy. This dynamic team has now produced pyrotechnic shows in 34 different countries and prides itself on being South Africa's leader in the Fireworks Display Industry. 
Sweden
Catch Sweden's Unique Pyrotechnic team as they light up the skies on Wednesday, August 1st. 
Established 2005, the Unique Pyrotechnic team is no stranger to the Celebration of Light as the winners of both 2004 and 2005 events. The team has also performed from 2014-2017 at the Bråvalla Festival, Sweden's largest music festival. With immense expertise and experience, producing more than 600 shows annually, their performance at the 2018 Celebration of Light will be a can't miss event. 
South Korea
Watch the Daehan Firework Co. team perform on behalf of South Korea on Saturday, August 4th.
A veteran team established in 1970, Daehan Firework Co.  was involved in the 2002 FIFA World Cup and won on People's Choice Award at 2014 Macau International Fireworks Display Contest. Travelling from across the globe for this year's event, the Celebration of Light is thrilled to welcome this team to the shores of English Bay.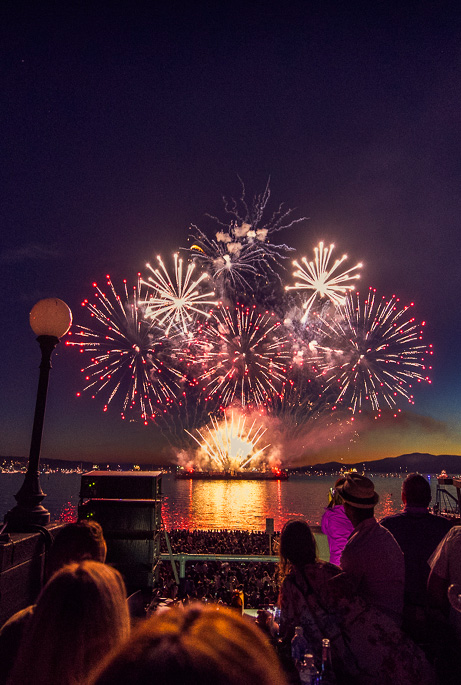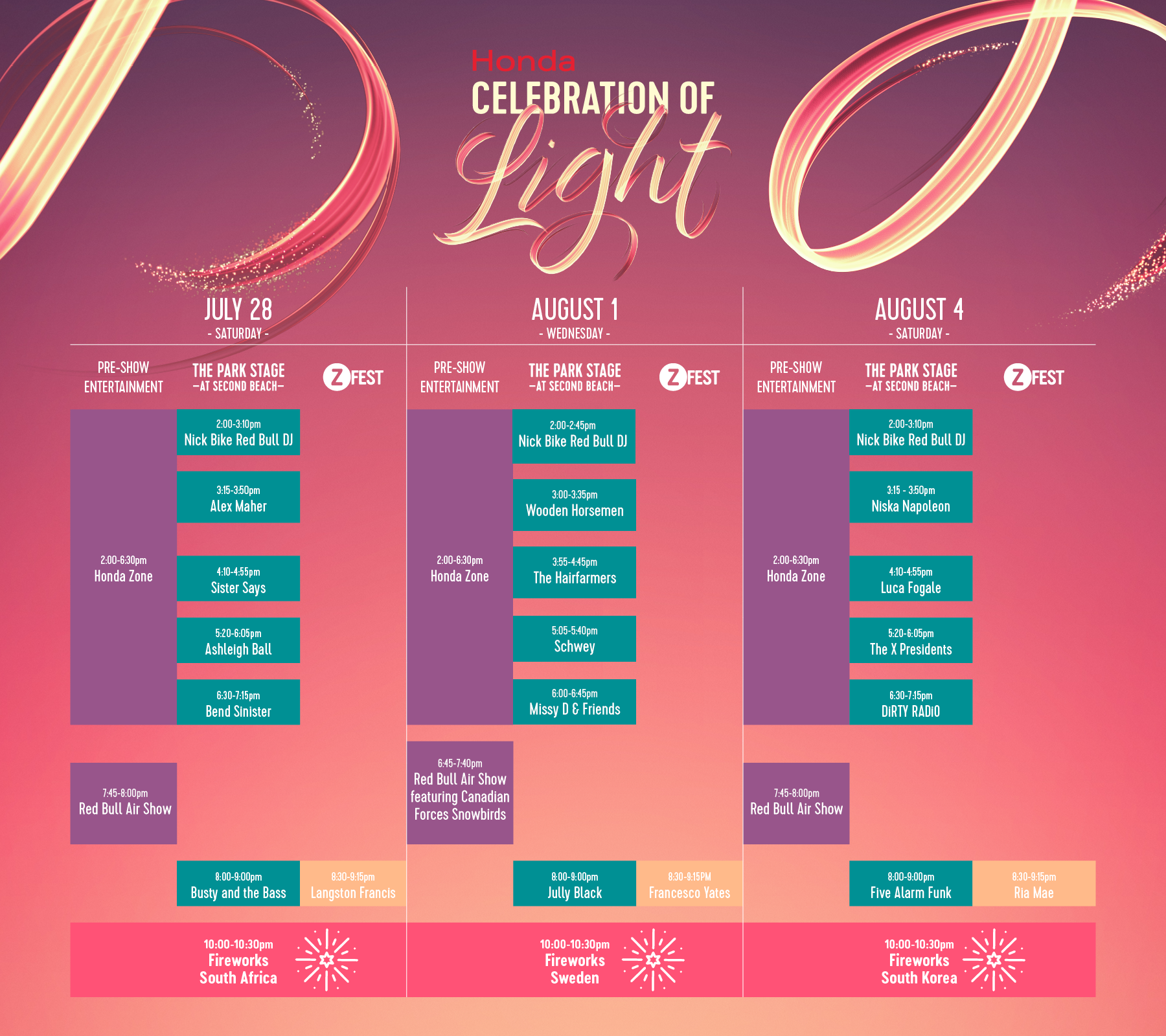 AIRSHOW RETURNS! 
Don't miss the Red Bull Air Show each night of the Honda Celebration of Light! Experience this jaw-dropping arial display all three nights at English Bay, featuring the Canadian Forces Snowbirds on Aug 1.