OUR JUDGES
Join in the action
Pyrotechnic teams are judged by a panel of industry experts,
sponsor representatives, and celebrities that spark inspiration in their community.
Help us decide this year's winner, download the Honda Celebration of Light mobile app to rate each team!
OUR CRITERIA
Because it's more than just the fireworks
Sizing of the Show  –  10 Points
Overall Design and Artistry  –  30 Points
Synchronization  –  20 Points
Originality of Effects  –  15 Points
Quality of Soundtrack  –  15 Points
Quality of Fireworks  – 10 Points
our teams
Japan
Don't miss the Akariya Firework team from Japan performing Saturday, July 29th.

Winners of the 2014 Honda Celebration of Light, the Akariya Fireworks team has participated in 57 fireworks competitions in the last 3 years. Their design philosophy is to complement fireworks to the festival environment around them. The Akariya team combines this focus on creativity, with emphasis on new technologies and safety to create spectacular fireworks displays internationally.
United Kingdom
Catch the United Kingdom's Jubilee Fireworks team as they light up the skies on Wednesday, August 2nd. 
Formed in 1987, Jubilee Fireworks Ltd is widely regarded as the UK's premier pyrotechnic company. Jubilee have won more awards for their work than any other UK company and were holders of the first 'Champion of Champions' title in both major national competitions – The British Fireworks Championships and The British Musical Fireworks Championships.
Canada
Watch the Royal Pyrotechnie team perform on behalf of Canada on Saturday, August 5th.
Since 1966, Royal Pyrotechnie has been recognized as the most decorated fireworks firm in Canada, creating over 300 shows per year. They are the only group to have won three Gold Jupiter awards during the L'International des Feux Loto-Québec competition, which takes place each year at La Ronde in Montreal. The whole Royal Pyrotechnie family takes pride in preparing detailed pyrotechnic scenarios that mix vibrant colours and intense musical scores to fill audiences with powerful emotions.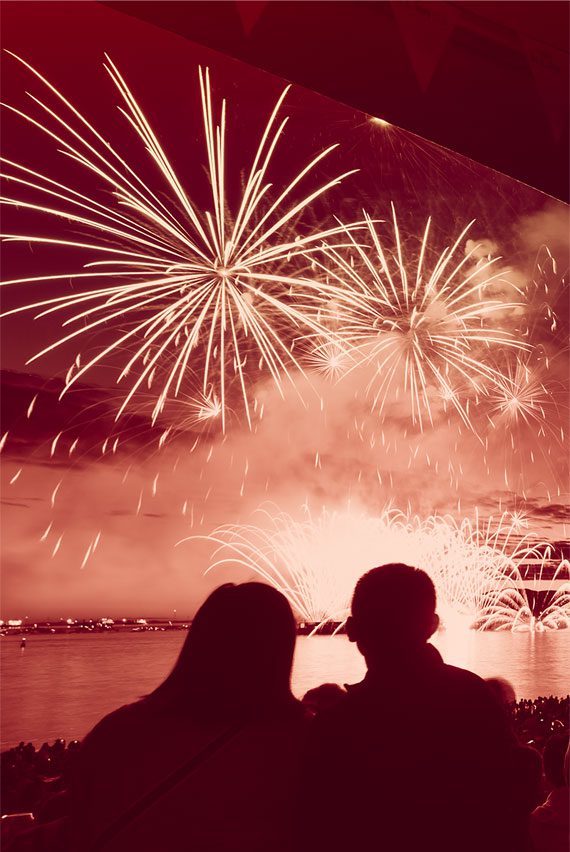 Mrazek

Airshows

 
Veteran airshow pilot and performer John Mrazek in his Harvard Mark IV dazzles audiences with a spectacular aerial ballet you won't soon forget. Joined by his son Richard, flying a Yakovlev 18T, their aerobatic performances are filled with noise, smoke, skill, and suspense, bringing onlookers to a standstill.
Both John and Richard are well known aerobatic airshow performers with unrestricted surface level waivers. When John is not flying airshows, he is instructing in the art of aerobatics, formation flying, float flying, and acts as an ICAS approved Airshow Certificate Evaluator. Richard works in flight operations for a large aerospace company.
Don't miss their performance Saturday July 29th & Saturday Aug 05 at 7:45pm over English Bay. 

Located at The Park Stage at Second Beach, the RE/MAX Family Zone will be the perfect spot for kids and parents to enjoy fun activities prior to the fireworks each evening. Located adjacent to the existing Second Beach playground and pool, this area will include a bouncy castle, games, face paint, and other exciting entertainment for families to enjoy. 
Don't miss your chance to join the fun, the RE/MAX Family Zone will be open from 2:00PM-9:00PM each day of the festival.
park stage at second beach
Sit back, Relax, and enjoy the music
Located at Second Beach in Stanley Park, this free all ages area will feature live music programming scheduled in collaboration with our radio partner, LG 104.3FM, each afternoon before the fireworks. Bring your friends and family to explore the REMAX Family Zone, then sample from a selection of food trucks and Stanley Park Brewing local craft beers while you enjoy the music!
Music lineup announced! Click here to view the full schedule.
the keg lounge
soak in some tunes in an ever popular ticketed venue
With purchase of a Keg Lounge ticket, enjoy live performances each evening of the Honda Celebration of Light prior to the fireworks extravaganza.
Music lineup announced! Click here to view the full schedule.
shorefest
A can't miss music event 
Programmed by radio station LG 104.3FM, SHOREFEST will return this year on Wednesday, August 2nd. This stage is located on the Bathhouse Roof in English Bay and can be accessed by both visitors on the beach and guests in the Keg Lounge.
Music lineup announced! Click here to view the full schedule.
View the Lineup
Don't miss 3 days of music featuring a diverse set of BC-based multi-cultural music and arts programming at our newest event area, the Park Stage at Second Beach, located in Stanley Park!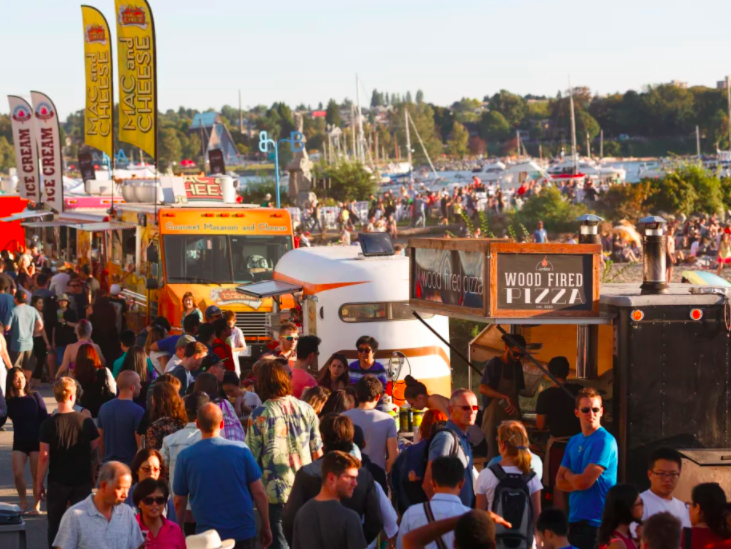 Festival OF food
with so much to see, you're bound to work up an appetite 
The Honda Celebration of Light is proud to host an array of local food options for our guests! Food Trucks will be located at English Bay and the Park Stage at Second Beach, along with hot & cold buffet options at our ticketed venues the Keg Loung, Concord Lounge at the Inukshuk, and YVR Business Class Cabanas.
Chickpea Food Truck
Cannoli King
Japa Dog
Didi's Greek
Whistler WoodFired Pizza Co.
Dim Sum Express