GETTING HERE
English Bay, in the heart of the West End, is easily serviced by transit and Downtown bike routes via the Seawall – for an enjoyable and fun experience, leave your car at home and take transit or bike to the celebration. CLICK HERE FOR MAP.
PUBLIC TRANSIT
Event nights you will see increased Skytrain, Canada Line, and Bus services to accommodate a large number of fireworks fans. Be patient on your journey – the show will be worth the trip!  
Closest SkyTrain Station to the Festival is Burrard Station and the Yaletown-Roundhouse Station of the Canada Line. Numerous buses travel along Georgia St. to Denman, and the #6 will bring you from Granville St. to Denman St. 
Kitsilano is serviced by numerous bus lines however, there is no Skytrain service to the area. For transit service information and updates, sign up for Transit Alerts, or follow TransLink on Twitter @TransLink. To help plan your trip on Public Transit, visit the TransLink website.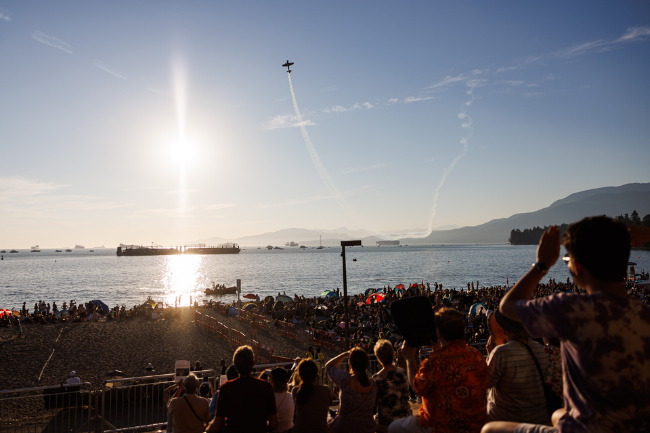 BIKING
Go green! Not only is biking one of the easiest ways to access the Honda Celebration of Light, it's an environmentally friendly way to explore the Festival.
DRIVING
If you plan to drive, arrive early and leave plenty of time to find parking. If you can, try to carpool with friends and neighbours and be prepared to walk a distance from your parking spot. 
ROAD CLOSURES ARE IN EFFECT STARTING BETWEEN 5PM-7PM in the West End, including Davie, Denman and Beach Avenue. Access roads into Kits Point are closed from 6:00 PM. Roads will re-open once crowds have dispersed and police have given their all clear at approximately 11:00 PM. 
Residents will be allowed into the area at specific access points but must display a valid resident parking permit or recent proof of address. Please respect all parking notices to avoid having your vehicle towed as enforcement will be strict. Motorists are not permitted to stop on any city bridge to view the fireworks, as it is a serious safety and traffic flow concern.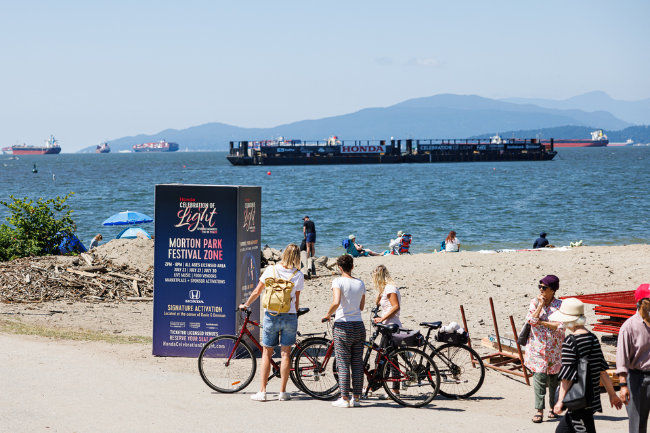 WEATHER GEAR
The fireworks celebration goes on rain or shine!  Be prepared and bring sunscreen, lots of water, and a rain poncho to keep you dry just in case.
TICKET HOLDERS
If you have purchased a ticket at one of our licensed venues, Scotiabank Lounge, Inukshuk Point, or The Concord Pacific Grandstand, be sure to bring your tickets with you or have them to hand on your mobile device. Please note that the consumption of alcohol is prohibited outside of our ticketed licensed venues. Haven't bought a ticket yet?  CLICK HERE to reserve your seat now! 
SUSTAINABILITY 
Help us work together in reducing our environmental footprint by bringing your own reusable bag to the event and promoting "active" transportation by walking or biking to the event.
Learn more about our Sustainability Promise HERE.
LOST & FOUND 
Located at the Volunteer Headquarters, in the Gazebo in Alexandra Park on Beach Avenue, between Bidwell and Burnaby Street.
FIRST AID
Numerous First Aid services will be available throughout the festival site, check out our Festival Map onsite and look for the First Aid Icon along with the Lifeguard Station located in the Bathhouse building in English Bay.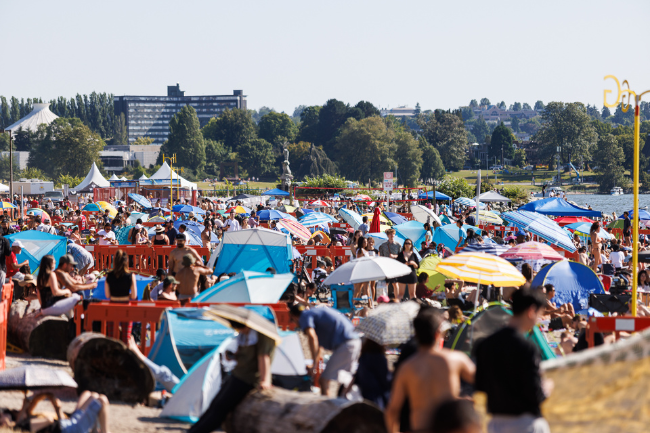 SAFETY ON THE WATER
In English Bay, all boaters need to position themselves outside the exclusion perimeter marked by marine buoys. These buoys mark the safety perimeter only and are not to be used as mooring points. If you are not thoroughly familiar with operating your boat at night please consider watching the display from the beaches instead. 
By observing a few simple safety rules, boaters can contribute to a safe, incident-free event. Safety tips to keep in mind:
Boating License & Navigation Lights – you will be leaving after dark, make sure you can be seen!

Be aware of hazards: tides, currents, other vessels, and shallows.

Have all your Safety Gear on board at all times know the laws around alcohol and boating, and respect them – Police will be on the water to enforce these laws.

Maintain a safe lookout at all times for canoes, kayaks, and other non-powered vessels.

Canoes, kayaks and other non-powered vessels should stay close to the shore to avoid interfering with the navigation of larger vessels and be aware of the exclusion perimeter as well as ensure they are visible on the water.
For more information, please visit: Transport Canada, Office of Boating Safety